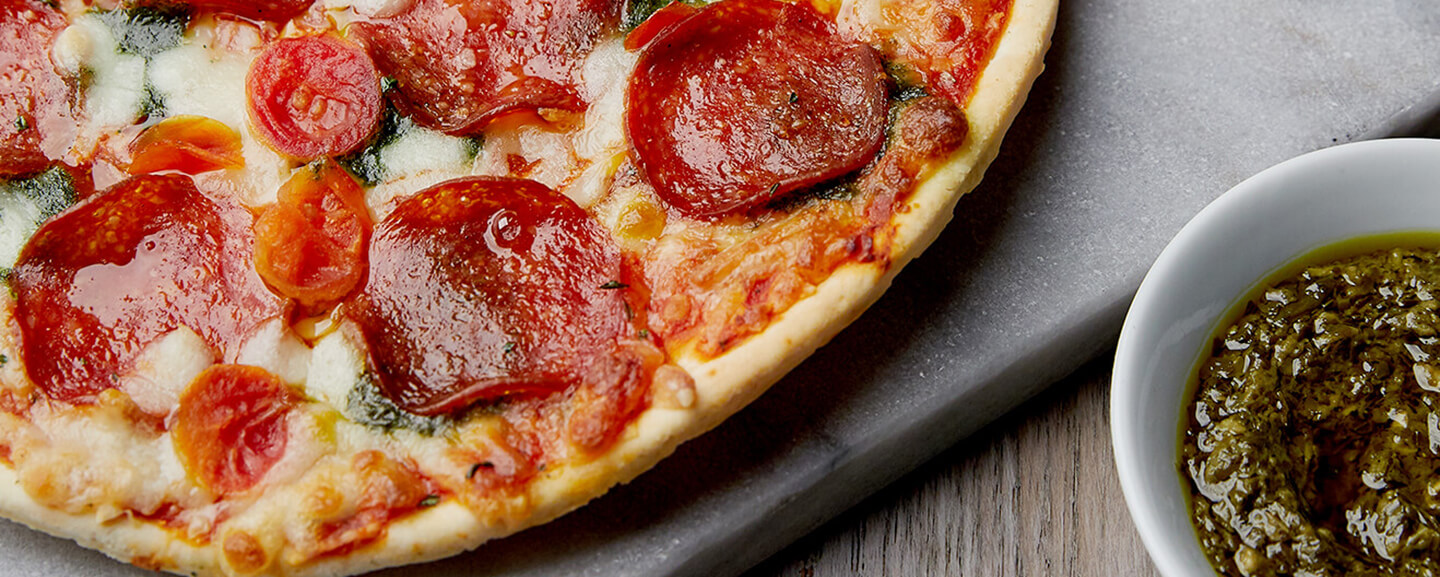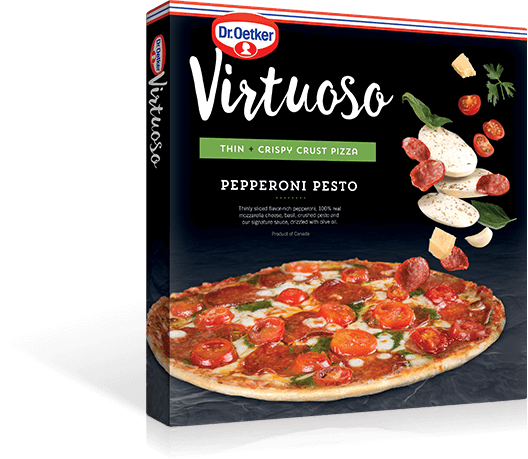 Pepperoni Pesto
Thin + Crispy Crust Pizza
It all starts with a Thin + Crispy Crust. Then, we add our Virtuoso signature sauce along with thinly sliced, flavor-rich pepperoni, 100% real mozzarella cheese, basil and crushed pesto, and then last but certainly not least, we drizzle the olive oil — and ta-dah! You have Virtuoso Pepperoni Pesto frozen pizza. Our tasty combination of fresh-picked ingredients is a symphony of flavors that taste like nothing you've had before.
Our frozen pepperoni pizza combined with pesto erupts into a mouthwatering taste experience. Don't buy just any frozen pepperoni pizza. Take home a Virtuoso Pepperoni Pesto frozen pizza, the taste of simpler times.
Baking Directions
LET THE ANTICIPATION BEGIN. Preheat oven to 425˚F. Keep pizza frozen while preheating. Oven temperatures may vary; adjust temperature and bake time as necessary. Remove pizza from both its box and stay-fresh cellophane. Place frozen pizza directly on middle rack in the oven. For best results, DON'T bake on cookie sheet or pizza stone. Bake 12-14 minutes until cheese is melted and crust is golden brown. CAUTION — PIZZA WILL BE HOT. PRODUCT MUST BE COOKED THOROUGHLY TO 160˚F for food safety and quality.
Refrigerate or discard any leftover portions.
Not suitable for microwave ovens — PLEASE DO NOT MICROWAVE.
Do not allow product to thaw.
Do not eat uncooked pizza.